Physical Education (PE)
PE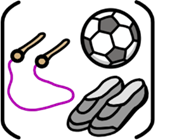 PE is an extremely important subject for both the physical and mental wellbeing of children. As such, we aim to teach many different sports and activities in our PE lessons as well as offering many extra-curricular PE options. The children will also have the opportunity to take part in sporting competitions against other schools.
Intent
To give all children the confidence and competence to engage in a range of physical activities.
To create a broad PE curriculum offer that is ambitious and offers a balanced access to a range of sports.
For staff to feel confident when teaching the PE curriculum so that children get a high quality teaching offer.
For all children to lead physically active and healthy lives into adulthood.
Implementation
Opportunity for all children
- Kitemark award
- Active Surrey
- Work closely with other Tandridge schools
- Create a team of KS2 sports leaders
- Clubs, extra curricular offer, SWANS etc
- Sports Day
- Meet competitive sporting needs for elite children
- Skills based curriculum offer
- PE Hub scheme of work – assessment tool, curriculum map, observations etc
- External coaches
- Swimming, tennis, cricket offered etc
- Experiential learning – taking part
- Bring PE back into the teaching timetable
- High quality CPD on teaching skills – not a sport but the development of skills
High quality sports equipment
- Link to the needs of PE hub
- Offer a wide range of sporting opportunities
- Purchase a sports kit for use in competitions
Impact
Increased participation in clubs, sports day, sporting events, extra curricular activities, inter-school and intra-school activities.
Increased knowledge of what it means and the benefits of being physically active and healthy.
A wider knowledge and understanding of how to utilise different skills in a PE context.
Staff feel confident and are therefore able to deliver high quality teaching in PE.