Maths
Maths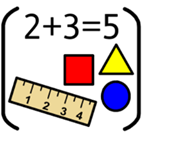 Maths is such an important subject in the outside world and has so many links to other areas of both education and life. Therefore, we want to provide a Maths curriculum which allows children to understand all areas of Maths and allows them to apply it confidently and successfully in their everyday life.
Intent
At Godstone Primary and Nursery School, our intent for Maths is that all children make the most progress possible whilst also enjoying the subject. We wish for them to be confident and fluent mathematicians and will give them opportunities to achieve this. We also want teachers and other adults to be able to improve their practise so that they are confident in teaching all areas of maths and understand the progression of both their year group and other year groups. We will aim to build on the previous good work done in the subject as well as introduce new initiatives to support teaching and learning.
We aim to use daily arithmetic practise and a weekly test to help build children's fluency in Maths. We will also look to increase the use of learning apps such as Mathletics and Sumdog. The use of the WRM and Mastering Number schemes also help with progression and mastery in all year groups. We will look to implement the new updated WRM scheme next year to increase children's mastery of maths. In addition, we will continue to use the Mastering Number programme and will look to explore further opportunities within the Maths Hub such as the Teaching for Mastery Development programme.
Finally, we will look to celebrate maths in school through competitions and special maths events such as Maths Morning. This will help promote a love of the subject throughout the school and increase parental engagement.
Implementation
Updated White Rose Maths scheme to be embedded from Y1-6.
Resources to support this to be provided to all teachers.
Mastery approach used in Maths to improve fluency and reasoning.
Mastering Number programme fully embedded in R- Y2.
Increase participation further within Maths Hub through the Teaching for Mastery Development scheme.
Daily arithmetic practise with end of week tests fully embedded
Sumdog and Times Table Rockstars promoted and used for both teaching and homework. Competitions to encourage participation.
Maths Mornings held regularly to promote and encourage participation in Maths.